2021
In 2021, Adelaide Bushwalkers celebrated the 75th anniversary of the club's formation. Planning for the activities to commemorate this event commenced in 2019. Little did we realise that the next 2 years would take so many twists and turns with Covid-19 lockdowns, and much of the walk's programs and club meetings cancelled. This booklet is an account of the past 25 years of Adelaide Bushwalkers from 1997 to 2021 and has been produced to recognise the club's 75th anniversary.
Click here to download a copy: Adelaide Bushwalkers: 75 Years, 1995 – 2021.
1996
To celebrate ABW's 50th year, the club's history was researched and documented in the publication Adelaide Bushwalkers: 50 Years, 1946 – 1996.
It provides a real feel for the club's activities since inception to the mid 1990s. It is a tribute to the contribution that Adelaide Bushwalkers has made to bushwalking generally and to environmental causes such as tree planting, park proclamations and the mapping of remote areas in SA.
1959
Surveying Mountains
Outside of the Adelaide Hills the lack of good maps made hiking difficult. In 1966 an Adelaide Bushwalkers party used a theodolite and aneroid barometers to establish spot heights of mountain peaks between Brachina Gorge and Parachilna Gorge, in the Flinders Ranges. They also suggested Aboriginal names for many of the features.
1957
Producing Maps
Adelaide Bushwalkers produced a detailed map of Wilpena Pound, in the Flinders Ranges. It included creeks, ridges, tracks, prominent features and water supplies. The map was printed and used by the Tourist Bureau.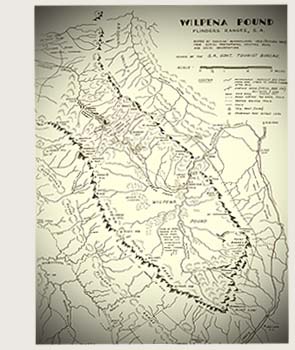 1957
Cutting a trail to St Mary Peak
Adelaide Bushwalkers marked and cut a track to the summit of St Mary Peak, in the Flinders Ranges' iconic Wilpena Pound. In 1959 further tracks were cut to nearby Mt Ohlssen-Bagge, and further afield in Mambray Creek and Waterfall Gully.
1948
Greenly Island proclaimed Flora and Fauna Reserve
The Adelaide Bushwalkers spent a week on Greenly Island, collecting specimens, correcting the map supplied by Admiralty and exploring the island naming prominent features. As a result of deputation to the SA Government, the island was proclaimed a Flora and Fauna Reserve.
1947
28 April 1947
ABW's long tradition of hiring out gear to prospective and full members began very soon after ABW was founded.
"The club was informed at the general meeting held on the twenty eighth of April 1947, that rucksacks were being made by some members for hiring to those who lacked this important item. Knives, forks, spoons and food bags were also to be made available." – extract from publication Adelaide Bushwalkers: 50 Years, 1946 – 1996
1946
26 October 1946
Twenty nine people joined for the first walk, led by H.A. "Bill" Lindsay. A newspaper article appeared in "The Mail" on Saturday 9th Nov, 1946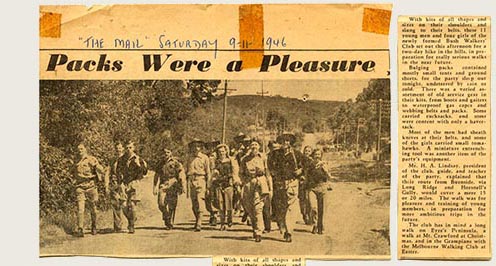 1946
Founded on 17 October 1946
H.A. "Bill" Lindsay was instrumental in calling a public meeting to discuss the formation of a bushwalking club. At the meeting an interim committee was established to draw up a constitution.