Having become a regular hiker over the last few years, I felt the need to stretch myself a little further and try out some solo hiking. I have had the urge to go back to Tasmania after several trips had always left me feeling the desire to experience more of this beautiful part of the world. So when I had the opportunity to tackle the Three Capes Track in Tasmania alone – I jumped on it.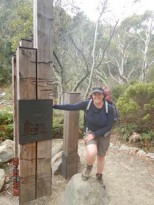 The trail is a 4 day, 3 night fairly moderate (to easy) track of 46km on mainly boardwalks, some wellmanicured gravel trail and a good dose of stairs to get your calves burning. A maximum of 48 people per day are allowed on the track and you can only walk it in the one direction. To say this track is thoughtfully constructed is an understatement – an impressive level of attention to the ecological impact on the area has been taken into consideration and the design of huts is both sensitive to the area and to the needs of travellers.
Each days walk leaves you plenty of time to slowly meander through the vast diversity of Tasmanian ecosystems and easily get in to camp by mid-afternoon and rest those weary feet. One of the most unique parts of the walk, for me, was the artful story seats positioned at perfect spots to stop and admire the amazing views and read about the history, local flora and fauna, or interesting stories of the beautiful area you are walking through.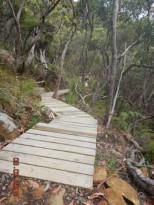 So with Tassie weather at its best, I set off to explore the Tasman Peninsular. Beginning with a few hours at Port Arthur Historic site, I slowly unwound and started looking forward to the adventure ahead of me. From Pt Arthur you jump on a specially built boat, for an ecocruise with close up views of the coastline you traverse on your first day. The first days walk begins at Denman's Cove where it's an easy 4kms up to Surveyors Hut. Here you can settle down to meeting with your fellow walkers and chatting with the very informative ranger who greets you, and enjoy the luxurious panoramic deck with views of Cape Raoul on a clear night.
On Day 2 (11km – 280m elevation) you get to experience some of Tasman National Parks vast diversity with the trail taking you through low eucalypt scrubland, tall eucalypt forest, windswept moorland, up Arthurs Peak (312m) and even a small microclimate of wet forest; before reaching Munro Hut and indulging in a warm bucket shower. Munro Hut offers amazing views of Munro Bight as far as Cape Hauy and if you're lucky enough, an abundance of wildlife including ring tailed possums, spotted quolls, wombats and echidnas who have all been known to visit at night. Unfortunately the only creature I encountered was a rather intimidating tiger snake.
Day 3 (17km – 490m? elevation) offers the breathtaking views you have likely been waiting for – with your walk taking you out to the Blade at Cape Pillar. Here is your chance to get amazing pictures of Tasman Island and plunging dolomite sea cliffs of the Trident. If you're keen to see Cape Pillar from another angle – take the seal spa track around the corner, and with a pair of binoculars, you'll be rewarded with views of seals playfully diving in the rock pools around Tasman Islands base.
You return to Munro Hut along the same path, so you can gratefully leave full pack at camp and pick it up on the way through. If craving a little extra adventure – take the opportunity to explore the bush camp at Wughalee Falls and here you can follow the less used old Mt Fortescue track that criss crosses streams and eventually comes out where you will walk on Day 4. You can once again leave your full pack at the camp junction and pick it up on your way to Retakunna Hut, which was handy as the walk down to the camp had some steep and slippery sections.
Retakunna Hut – meaning creaking limbs – turns out to be a perfectly cosy place to view the wild weather that came in on our final evening on the trail. Under Mt Fortescue's wispy cloud covered peak, we spent the evening watching the lightning and rain whilst recounting our adventures.
Day 4 (14km – 410 elevation) takes you to your highest peak (Mt Fortescue – 428m) and back down towards Cape Hauy. This, for me, was the most beautiful section of the walk, going through Jurassic period forest with lichen and moss covered rocks and trees, an abundance of brightly coloured mushrooms and the giant trees and ferns. Once you reach the Cape Hauy junction you can leave your pack and. take the side trail out to see the Totem Pole and candle stick where rock climbers test their skills every year. Returning to the popular day walk track, it's an easy downhill stroll to Fortescue Bay where you can soak your feet in the pristine waters and enjoy the long white beach at your walks end.
Overall this is a great trip for someone wanting to try solo walking or a family with young kids interested in hiking. The walk is fairly moderate, tracks are well constructed and there is no chance of getting lost. Overnight Huts are very comfortable and well equipped, meaning you don't have to carry too much. You will be in awe of the spectacular views and diversity of ecosystems you traverse. Although you can explore a lot of the area with bush camping or day walks, I feel the track is well worth a visit to experience the stories along the track, the luxurious feel of the huts and most of all the comradery of walking with a diverse group of people. Tasmania has so much to offer and as one of the entries in the log book points out – "Hiking is good for the soul", so put this trip on your list and get out there exploring.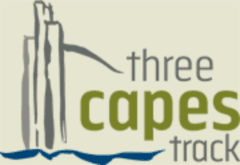 Contact:
Phone: 1300 TASPARKS (1300 827 727)
Email: threecapestrack@parks.tas.gov.au