In March 2017, Trevor Jones led Bruce Hood and me (Ben Trainor) on a 14-day walk traversing the Western and Eastern Arthurs, in the wilderness of the Southwest National Park, Tasmania.
Soon after discovering overnight hiking in around 2012, I read about the Arthur Range and marvelled at its jagged peaks and alpine lakes. Photographs by famous Tasmanian wilderness photographer Peter Dombrovskis and prominent Sydney Bushwalker Dave Noble inspired me to dream of exploring the range.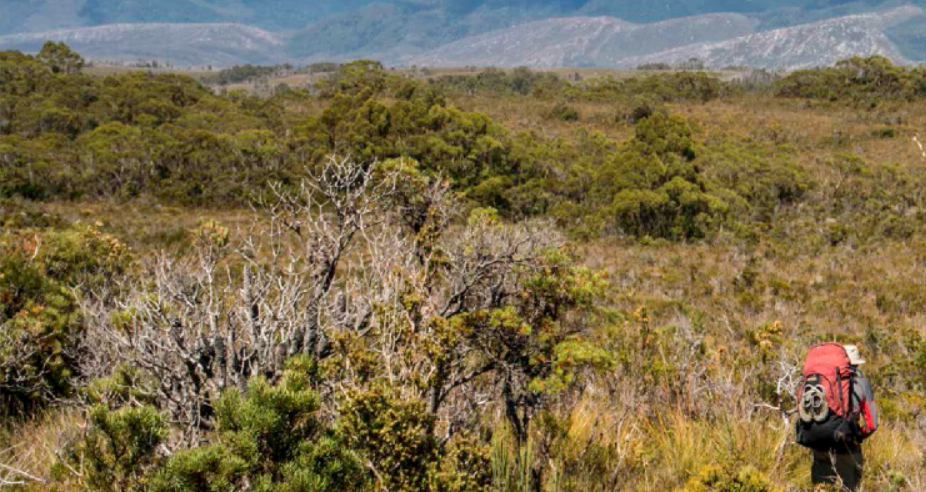 In late 2016, Trevor posted on the Adelaide Bushwalkers (ABW) website that he was leading the Arthur Range Traverse. I was keen for the adventure but at the time I was only a prospective ABW member, and the longest walk I had completed was a four day walk in Tasmania, the Three Capes Track, which is at the other extreme of Tasmanian hikes being hut-based walk with kitchens, gas stoves, water, and toilets and even a makeshift shower all supplied. Despite this Trevor let me sign up. Trevor's benchmark to prepare was to climb Mt Lofty in under an hour, with a full pack.
Even after passing Trevor's training test, I remained daunted by the difficult terrain and the prospect of carrying supplies for 14 days. I also wondered about whether I could climb Federation Peak, when just looking at photos of people climbing it made my hands sweaty. I took comfort in the knowledge that Trevor had previously walked the Eastern Arthurs and climbed Federation Peak in 2012 (ABW walk led by Romano Mihailovic) and also walked the Western Arthurs in 2008 (ABW walk led by Steven Boyle), both in the opposite direction, as well as completing multiple long walks in Tasmania's wilderness, and had survived.
Summary of the walk
The walk commenced from Huon Campground (near Lake Pedder) and finished at Farmhouse Creek. We covered over 80km distance plus multiple side trips including climbing Federation Peak in the Eastern Arthurs.
Day 1 – An easy walk from Huon Campground along the Port Davey Track through buttongrass plains and some mud with impressive views of the jagged Western Arthurs. We made camp at Junction Creek choosing the tent sites beyond the creek just before the junction. From here we watched as an impressive band of clouds rested and rolled over the range.
Day 2 – After continuing along the Port Davey Track we turned up Alpha Moraine for a fairly steady 800 metre or more vertical climb to the top of the Western Arthur range (with full packs). Let's just say it was a bit harder than Mt Lofty. We entered clouds part way up. After we reached the top of the range we made the short detour up Mt Hesperus. As we continued the clouds began to lift and we made it to Lake Cygnus for lunch. We had planned to camp on the tent platforms at Lake Cygnus but after making good time we continued. We climbed Mt Hayes on the way to Square Lake where we camped for the night. This was a spectacular spot enclosed on three sides by massive quartzite cliffs. Still our tents were exposed to strong winds overnight keeping me awake for a few hours. The others slept through it. Perhaps they chose better positions for their tents.
Day 3 – We progressed only about a kilometre along the range but climbed three peaks. Early in the morning, without packs, we climbed Procyon Peak above Square Lake. On top we were above a blanket of cloud which stretched into the distance. After returning to Square Lake we walked up from Square Lake and climbed Mt Sirius and Mt Orion (both of which provided magnificent grandstand views of the famous Lake Oberon and the range behind), before we made the steep descent to Lake Oberon.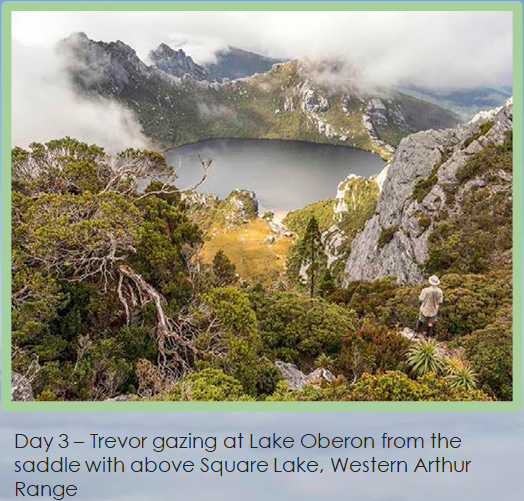 Day 4 – Hiking/scrambling from Lake Oberon to High Moor was one of the hardest days, yet most spectacular of the walk. We enjoyed beautiful light around Lake Oberon before the very steep climb up Mt Pegasus. Near the top was a narrow chasm just wide enough to fit through. A boulder blocked the way. I got on hands and knees and was just able to get under it. I stood up. From here it was a vertical climb up the chasm for a few metres. It was too narrow to turn around or take of my pack. When I reached the top, I exclaimed "That is the hardest thing I have ever done". Shortly after we were on top enjoying the brilliant views back down to Lake Oberon. From Mt Pegasus, there was much scrambling down, then up over Mt Capricorn and steep scrambling down before some easy boardwalk for the last stretch to reach High Moor. After setting up camp, the fog rolled in. We put on all our clothes, gloves and jackets, just to keep warm.
In the words of Bruce Hood:
"The High Moor loo was another of those with a spectacular view. After a visit, I was following the boardwalk back to camp in the chilly night air under a full moon. Upon rounding a corner on my return, in the swirling High Moor mist, I was confronted by an attractive, naked, young lady bathing under a bucket of icy cold water. Seemingly unperturbed, we chatted briefly about the plummeting temperature as I continued on my way back to a tent and a warm sleeping bag."
After tea, around sunset, the fog started to lift. We all rushed to grab cameras and phones as the views transformed around us. Trevor and Bruce climbed Mt Columbia. As I only had thongs on my feet I made it only half way up but took loads of photos of the amazing place above the clouds.
Day 5 – This was another difficult but spectacular day from High Moor to Lake Sirona. I woke early for a short jaunt to watch the sunrise over Federation Peak in the distance. We began through Titled Chasm and then the up and down of the Beggary Bumps. Trevor led the way down all the steep sections of rock. On more than one occasion I would have been in some difficulty if it was not for Trevor guiding my feet to the right places to make it down safely down the wet, slippery rock.
Our planned goal was Haven Lake. We made good time. We all had a swim in the Lake before pushing on to camp on the sensitive and exposed plateau adjacent to Lake Sirona. From here there were phenomenal views in the distance to Lake Pedder on one side and Federation Peak the other. We climbed to the top of a large cliff to watch the sunset. It was another amazing day.
Day 6 – After a superb sunrise we climbed Mt Scorpio just off the track (I stupidly decided not to take my camera but from memory the views were stunning.) Shortly after, we continued past the turn off down Kappa Moraine where many parties exit the range. From the junction it was a relatively easy walk to Promontory Lake.
In the afternoon, we made the return side trip to Mt Canopus. But once we returned we were too tired to climb the nearby Carina Peak given we had a long day ahead.
Day 7 – In the morning we began walking in thick fog and the track was hard to find. Trevorr used the GPS and map on his phone to navigate for the first time. If I was alone, I would have been utterly lost. After we found the track, we continued along Centaurus Ridge and the fog cleared. We had lunch before climbing West Portal, the highest peak in the Western Arthurs for some more spectacular views.
Actually, Bruce climbed it twice. The second summit was reached in record time after realising when we returned to our packs that he had left his beloved (and by now worse for wear) gloves on the top. From here it was fairly easy walking to Lake Rosanne to camp for the night. I camped beside a large boulder, and the others camped closer to the lake. The campsites looked like they could get quite wet after rain.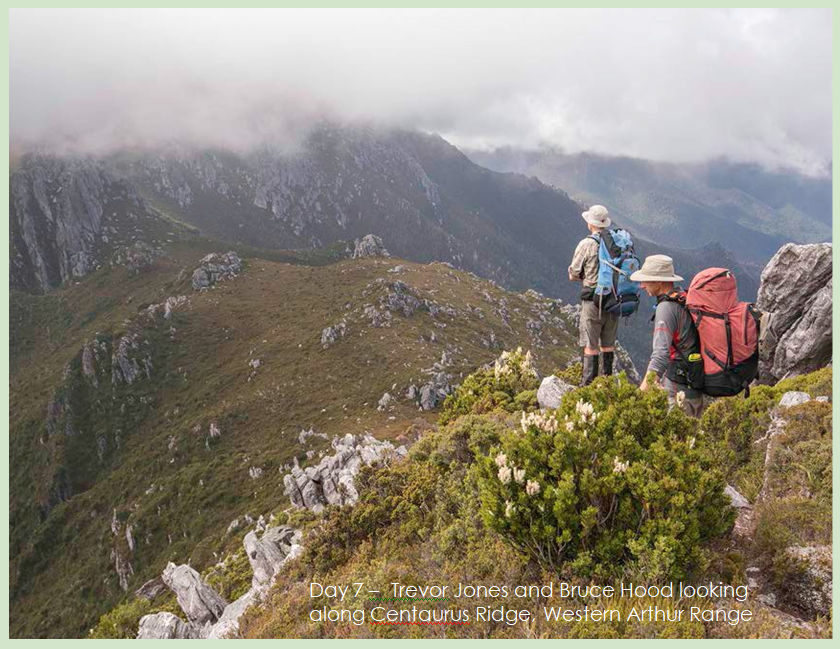 Day 8 – The day commenced with rain; amazingly the first we had experienced for the whole trip. We descended off the Western Arthurs down to cross Pass Creek, then up Luckman's Lead to the Eastern Arthurs. We set up tents at the platforms at Stuarts Saddle, amid stunning pandani laden forest, just in time to retreat when it started to rain heavily. From the tent platform we could see Federation Peak across the valley.
Day 9 – We continued through the heart of the Eastern Arthurs to a Hanging Lake, very close to our goal of Federation Peak. It was another day of phenomenal views. There was boardwalk protecting the sensitive alpine herb fields. At some point, Trevor remarked that we must take as many photos as possible of the boardwalk to include in a trip report to prove just how the Arthurs walk is really easy and flat. But that might be a bit misleading. At one point around Four Peaks, we were met with a cliff about 5-6 metres high.
Day 10 – Federation Peak: summit day. From Hanging Lake, we followed the Southern Traverse. Trevor led the way up the direct ascent of Federation Peak. He consulted John Chapman's notes and followed the cairns. Initially there was some steep scrambling and then near the top was a narrow traverse across an almost vertical rockface with Lake Geeves 600 metres below. As always, Bruce and I let Trevor go first. Trevor continued further than necessary and ended up the other side of nasty bulge. Instead of turning back (he said he was too scared to do it again) he forged his own substantially harder route up before he told us to go the easier (normal) way. After the ledge it was an easy scramble to the top of Federation Peak where we enjoyed magnificent panoramic views of mountainous wilderness in all directions including back across both the Eastern and Western Arthurs. After returning to Hanging Lake we climbed Geeves Bluff for another glorious sunset.
Day 11 – Hanging Lake to Crest Camp. This was another tough day heading around Federation Peak on the Southern Traverse (with packs this time) then down Moss Ridge which was about five hours of steep slippery descending through thick forest. Bruce raced ahead. By now Trevor had only one fully functional knee. I was also starting to feel my knees were not at their best. I felt like the descent continued forever. I barely took my camera out for any photographs as I was deep in concentration, for hours, watching where to put my feet, and trying to avoid hitting branches with my head, just hoping it would end.
Day 12 – After I slept in the others helped me pack up my tent in the rain. We walked through the forest from Crest Camp to an unnamed Camp on the Lake Sydney Track. Although walking was relatively flat through buttongrass plains and beautiful rainforest it was a hard day of mud and leeches. In the evening we all retreated early to our tents to escape the mosquitos, leeches and ticks.
Day 13 – With a day to spare we set off on a side trip to Lake Sydney through cold, muddy, wet forest, then back again before walking on to another unnamed campsite beside a creek three or so kilometres before the end of the walk.
Day 14 – After a couple of hours easy walking and we made it to Farmhouse Creek completing the Arthur Range traverse.
This was by far the most difficult but most spectacular walk I have ever done. We had amazing weather and saw some brilliant cloud formations in the rugged terrain. Massive thanks to Trevor Jones for leading Bruce Hood and me there and bringing us back safely. ABW really does take you places. I am so grateful to be able to see such a spectacular corner of creation. I often dream of returning.