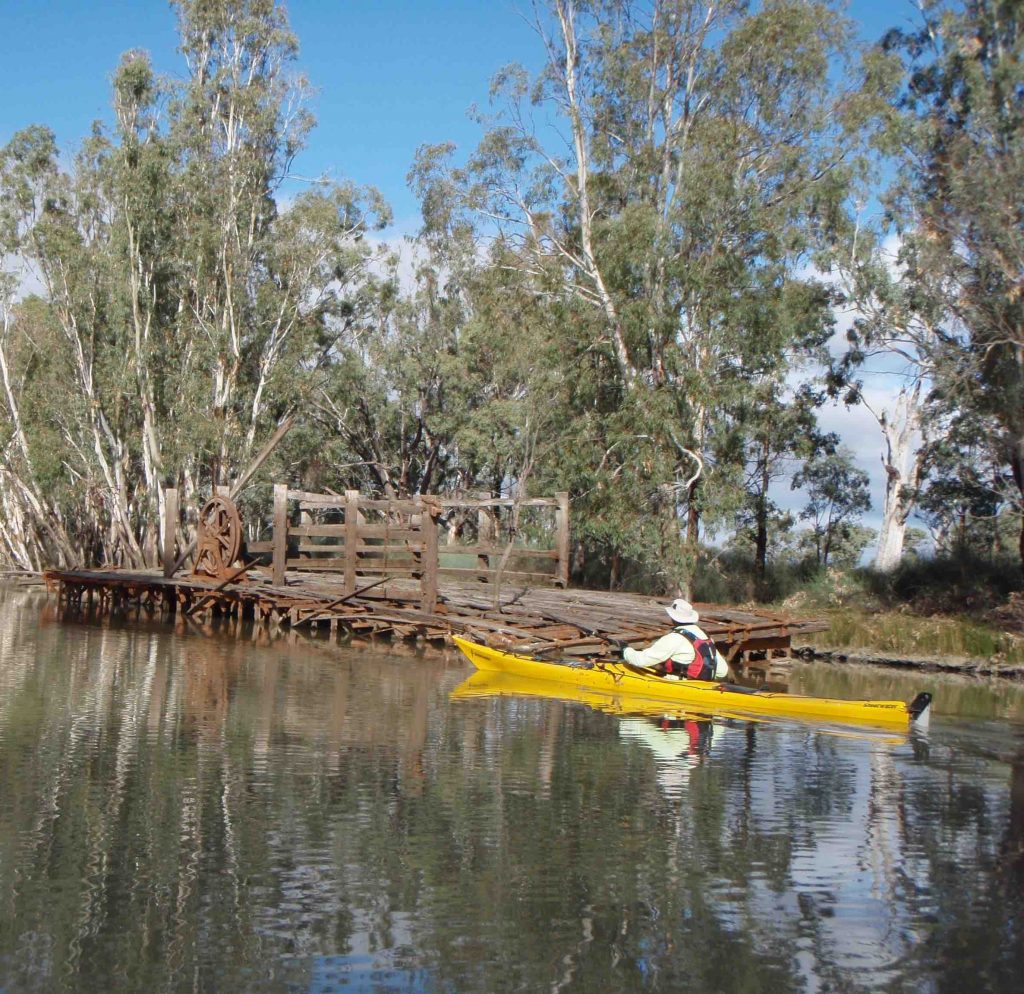 One wouldn't think there would be interesting canoeing in this area, but a glance at the river maps shows a whole series of lagoons downstream from Lock 1 at Blanchetown. A beaut beach at the Riverside caravan park was a good launching point for Trev Moyle and myself. It was late June, cool but fine as we set off downstream past spectacular cliffs (that are a feature of this section of the River Murray).
The days were short and we were happy to pull into Moorundie Creek for a nice sandy beach and good campsite. We had hoped to get through to Portee Lagoon, but the creek was blocked by snags so it was back on to the main river, bypassing another access point that was closed with narrow gates. We camped high on the bank with a commanding view of the river and sunrise.
Then we were able to pick up a minor creek system (260km from the river mouth). Shortly though this seemed blocked by a fallen tree but Trev was undeterred and balanced out across the log, maneuvering the boats through a gap. The creek continued, barely a blade deep at times and widening out into lagoons. Carp abounded in the shallow waters, leading to a startling experience by exploding in the water when contacted by the canoe.
The creek joined the main river just above Swan Reach and we paddled upstream for a kilometer or so till another minor creek was entered. There was good camping along this creek – except it was corella heavan but they did quieten down at night, and somewhat scared off by Trev's powerful head torch.

The creek was blocked by a pipe, but Trev was able to float the boats through, then tow mine to shore. Where the top end of this creek joined up there was an old barge, reminiscent of times past. We completed a circuit back onto the main river, exploring access to Portee Creek downstream, but it was all closed off and "Trespassers Prohibited", so we sought a different riverbank (and view) to camp early. It was cold, so we cranked up the fire. We were sharing evening meals and Trev came out with some "Rogan Josh" on one occasion. This was pretty hot and had a corresponding laxative effect – or was that the "mexican curry"!! My meals were bland in comparison.
We were able to get access to Portee Creek via a cut channel (not marked on the map) at 267 k from the rivermouth (these markers are rather intermittent, and not entirely accurate – or the map is inaccurate). We had previously gone down Portee creek, negotiating a number of barriers until it was blocked off. Now we went up the creek – again encountering barriers and roads, but able to sidle underneath them till we reached a large shallow lagoon . We did not run out of water, but as waterbirds were standing in the lagoon it indicated how shallow it was and after 4 kms or so of paddling we turned around.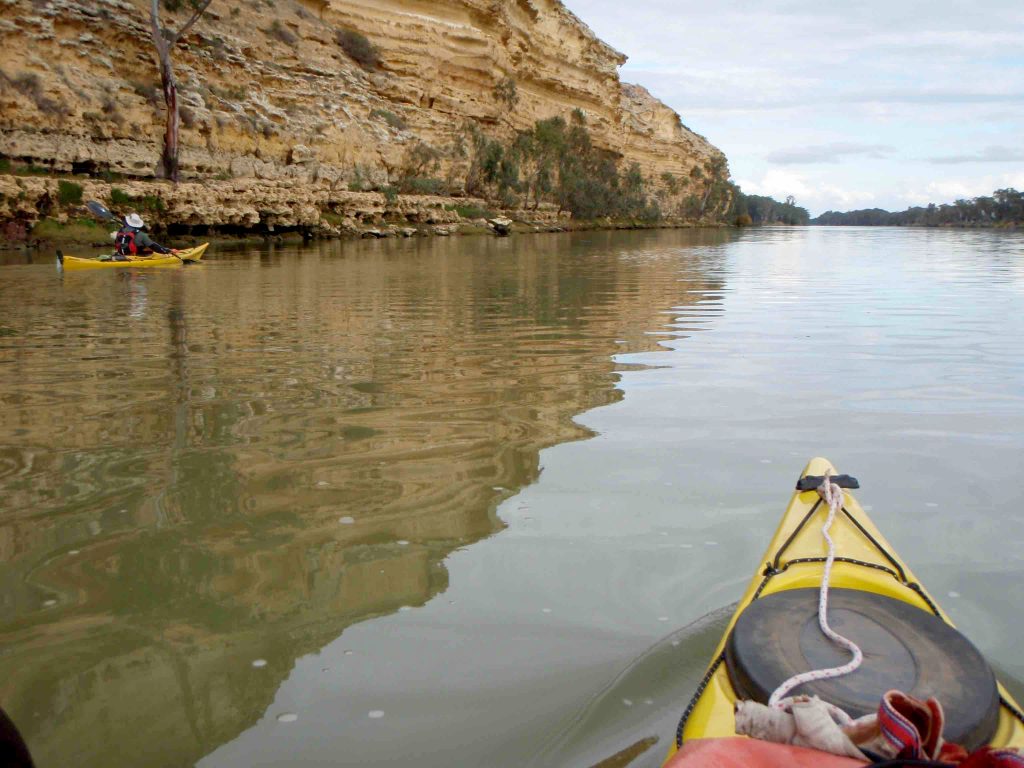 We rejoined the main river and seemed to make slow progress. I blame the current, which was appreciably flowing , along with a slight headwind. We looked at various camps, but eventually settled on a high riverbank with tussocky grass. This proved ultimately beneficial as shortly after main course the heavens opened up, and dinner was terminated and we retreated to the tents.
It rained all night, and there was nothing to do but snuggle down into one's sleeping bag and listen to the rain pattering on the tent fabric.

Fortunately it cleared by the morning, and determinedly I got a fire going. It was rather feeble though – but enough for the all important toast!! We now had a tail breeze back to Blanchetown, stopping off at a large sand bar we had seen on the way down.
A curious egret hopped onto the coaming of my kayak as we were packing up. Thus completed an interesting exploration of infrequently travelled waterways south of Blanchetown. A combination of fine days and early camps (short days) made for a memorable trip.