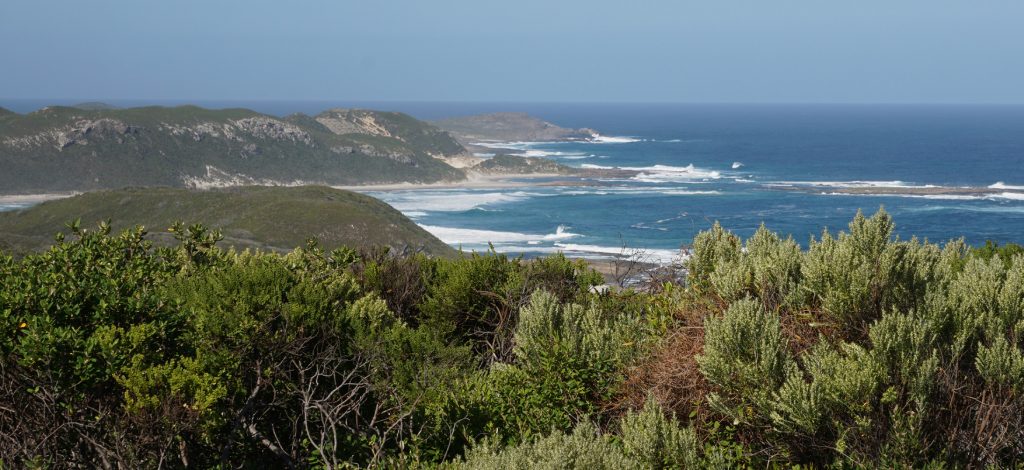 We started out from Nelson on the Saturday morning with a five kilometre walk along the Glenelg River and roads to Discovery Bay. It drizzled and then rained so we were pretty wet by the time we got to Ocean Beach. Fortunately the rain abated over the following few hours and the stiff wind dried us out by lunch time. Our first night was at Lake Monibeong camp, we had covered 24 km altogether so Ben's wine stash was very welcome. The next day saw more coastal and dune walking as we headed for Swan Lake where some of us had a swim. Overall a beautiful wild coast to walk along but unfortunately heavily littered by plastic rubbish that had floated ashore.
We spent the next three days walking through the Cobboboonee Forest and National Park and had the trail to ourselves most of the time. It was great having John identifying birds and their calls as we walked along. Throughout the walk we stayed at the designated camp grounds where there was a sheltered table and pit toilet.
We then headed to the Glenelg River at Moleside which was a beautiful spot with a lot of bird life. Our last full day on the trail followed the Glenelg River west to Battersbys Camp in dense forest with great views of the river.
Thanks to Pam, David, Lindy, Trevor, Ben (for all the wine and cheese!), John, Nino, Jess and Alex for coming along and making it an enjoyable walk. Congratulations to Jess who qualified on this walk!