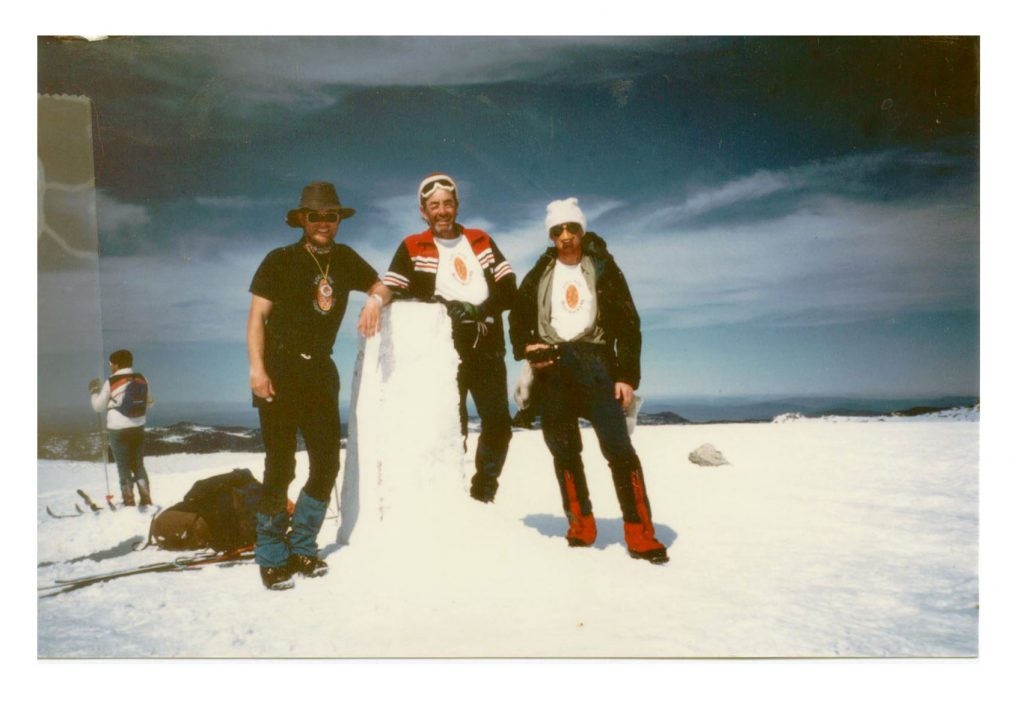 On top of Mt. Kosciuszko, it was still, and there was only thin, high cloud in the sky, and for all six in my group, this day was an experience never to be forgotten. I was on the summit of our highest mountain in August 1987 with my companions from Adelaide Bushwalkers. We hadn't walked up, but ascended on our cross-country skis as part of an eight-day ski touring trip from Kiandra, 70km to the North, and the day on Mt. Kosciuszko was the culmination of the whole journey.
Looking around me that day, the white slopes and peaks seemed to stretch away forever, and way in the distance to the North, to the West and to the South other peaks could be seen, making the whole panorama seem like a kind of fairyland. "Look," said Charlie, pointing to the North, "there's Mt Jagungal, where we were a few days ago". My comment to the others was "What a pity we couldn't get to the summit because of low cloud that day".
There is a photograph of David, Charlie and me on the summit. Before we left camp that day, Charlie had said "Those with ABW T-shirts with them, wear them. They should look good in a photo".
All members of my party were experienced bushwalkers and we had all had some experience in ski-touring, meaning pack – carrying on skis. At the time of this trip, I was the least experienced, having been introduced to ski touring only three years previously. David and Charlie had been cross country skiing for some years, and had developed turning skills which I had yet to master; hence I had a few tumbles.
Two others in the group, Peter and Joe, had been on quite a few trips whilst Eva was Swiss and been skiing since she was a child. For the rest of us, the Australian ski fields are more than 1,000km from Adelaide, and the season is short by world standards. Hence, getting to and from our snow fields is a big trip in itself.
For five of the seven nights of the trip, we camped in the snow, and I shared my tent with Peter, with the other four in the touring party in two other tents. When the group decided it was time to camp for the night, Peter and I would find a flat, sheltered area, dump our packs on the snow and set about erecting the tent.
The first thing to do was to pack the snow down by methodically fully tramping an area of about four metres square. "I'll level the snow off while you unpack the tent" I would have said to Peter. Cross country skis are quite long and are ideal to use as a "straightedge" as used in landscaping and building, so with care and patience, a good, flat compacted area for sleeping on had been formed. Usually, while I was doing this, Peter would stick the other skis and poles upright in the snow, and go to a nearby small creek, mostly covered by snow and collect some water in wine skins, thus avoiding having to melt some snow.
A ski-touring trip and a bushwalking trip are essentially the same, with the exception that some special gear needs to be taken on a ski trip. In my case, I took half of another insulating waterproof sleeping mat to go under the upper body, and some extra layers of clothing. The body works hard crosscountry skiing, so several layers of warm clothing rather than thick padded jackets are preferred.
Gloves, waterproof mitts, insulated camp shoes, a beanie, a minus 10 degree-rated sleeping bag, raincoat with hood, water proof overpants, sunglasses and one light aluminium snow shovel per tent are all necessities for anyone venturing on a ski-touring trip.
Peter and I would erect the dome-shaped twoman tent using special wide pegs to grip in the snow. My tent has two entries, each with a vestibule, making living conditions much easier. We would then quickly set up our beds for the night, for being winter, darkness would descend on us early. In any case, because of the cold, we would be in our sleeping bags early.
A precaution that any bushwalker or ski-tourer takes is never use a stove in a small tent because of fire risks. So that a stove does not gradually sink into the snow as it does your cooking, a small piece of thin plywood is carried to support the stove on the snow.
Another precaution to take when snow-campingis to put one's ski boots in a plastic bag, and then inside the sleeping bag so they won't freeze overnight.
As my tent has the two vestibules, and to add a small amount of ease and comfort while sitting around eating, chatting and so on before going to bed, Peter and I would dig small pits to drop our legs in.
On this particular trip, Peter and I decided to share the evening meal – alright in principle, but Peter is small and eats a lot less than I do. After a couple of nights when Peter prepared dinner, I had no alternative but to say to him "Peter, I think you are trying to starve me." This was resolved by making small adjustments to our menu for the rest of the trip.
In the Australian High Country, ski tourers often camp near snow gums, suggesting having a camp fire. However, on an earlier trip, a fire was lit on the snow, first laying the biggest logs as a platform on which to build the fire. On that occasion, the obvious happened – the fire gradually sank as the snow under it melted, so we never tried that again. On a trip of this kind, everyone usually sleeps well at night, as ski-touring with a heavy pack on the back is tiring and demanding on the body.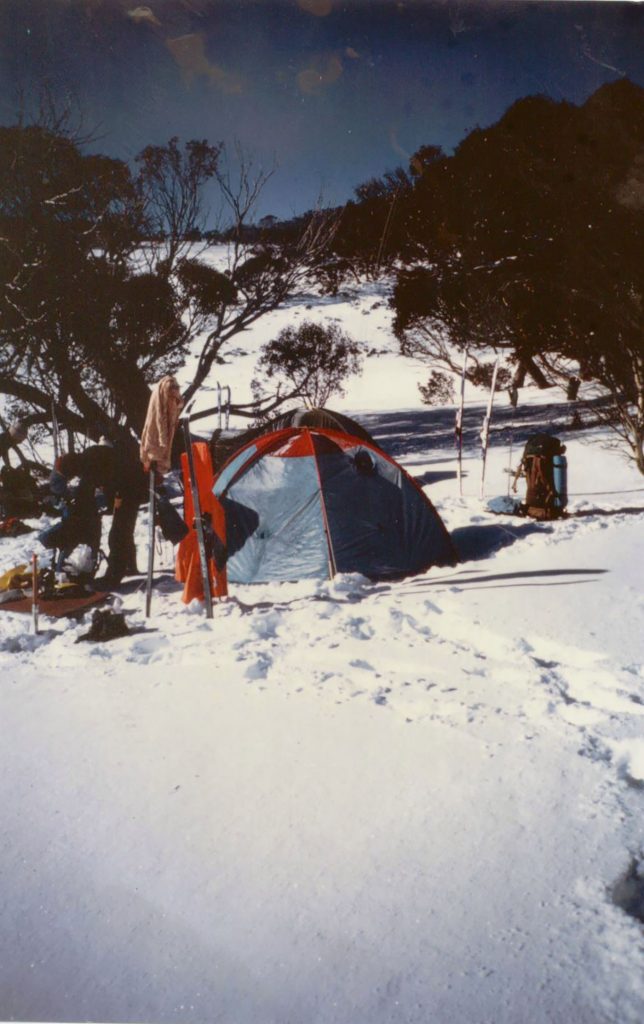 Near sunset on one of the days of tenting in the snow, and on a clear, alpine day, we stood and gazed at the beautiful light shining on the snowgums still laden with snow due to the lack of wind this day.
For the last two nights of the trip, it was our intention to camp in a snow cave, and on the day between those nights, climb Mt.Kosciuszco. David, our leader on this trip had been to this area before and was familiar with it. "Let's head for Blue Lake as there is a steep, high bank at the West end of the lake where deep snow drifts form, making it an ideal place for digging caves to camp in" he told us. On reaching the lakewhich was frozen over, caution prevailed and we skied around the edge of the lake on firm snow.
A previous party had dug a small cave, so with the aid of our snow shovels, the cave was enlarged to accommodate five in the party, David had chosen to sleep in his tent, rather than in the cave. It was fun creating this cave, quite safe because of the dense mass of snow around us, and with a rounded ceiling to prevent water dripping down on us, as well as leaving two ventilation shafts, it was a good, safe and novel place to camp.
The silence in the cave was eerie and it was some comfort to know that during the two nights we spent in the cave, it was warmer in the cave at about zero degrees than outside at about minus 5 degrees.
On the first night, David recited Banjo Patterson's The Man from Snowy River. Coming to the fifth verse, I heard the words "up by Kosciusco's side. "Ah" I thought to myself, "Those words will become the name of this trip".
I had heard this iconic Australian poem recited several times, but in the almost magical surroundings of the snow cave, and being in the Australian High Country, it was an unforgettable experience.
We went on to reach the summit on the day between the two nights in the snow cave. It was a hard slog going up, but there was the great jubilation in skiing back to the cave. I had a couple of tumbles going down, but no harm was done on the soft snow and we were above the tree line, so no risk of crashing into trees.
Those long runs down through the snow, the swish of the skis, the cold air on my face and the superb scenery were highly exhilarating. Trips like this one are memorable for me, and looking back on them, I think to myself "how adventurous those ski-touring trips were".